Satisfied Owners
Sea Sea Gorgeous Girl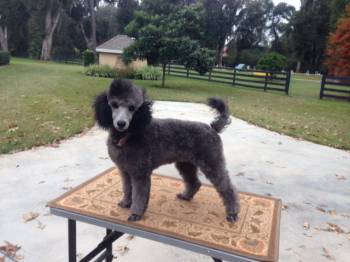 Lucky Rita received #1 pick out of this handsome bunch!
Mina X Deck
Summer 2014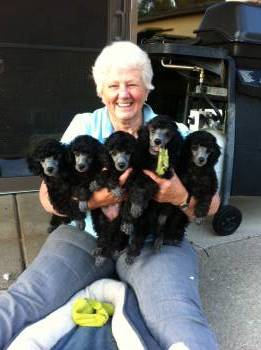 "Rudy"is well loved in CT
Dori x Deck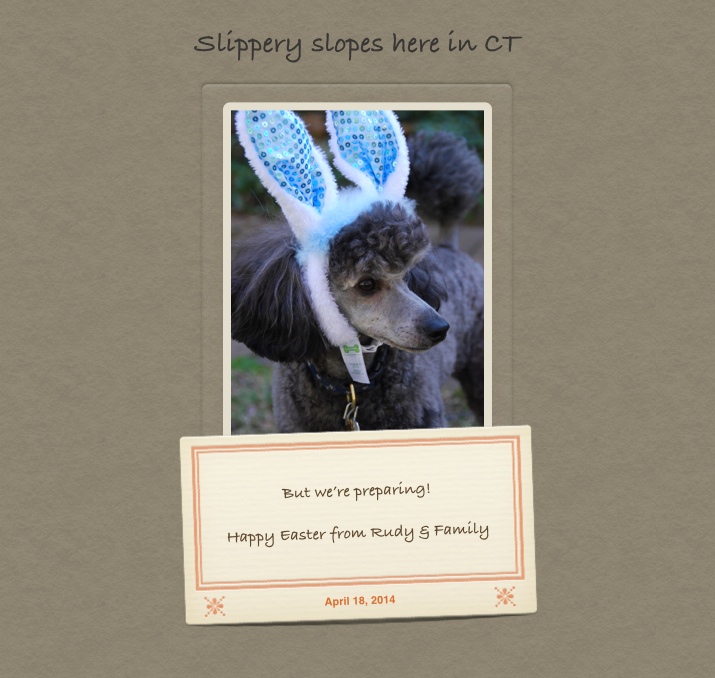 SURF
Surf is taller now, at least 14 inches. He can now do a full height teeter! He really loves to do whatever you ask him to. Obedience is going well. We are learning how to prance.
Louisa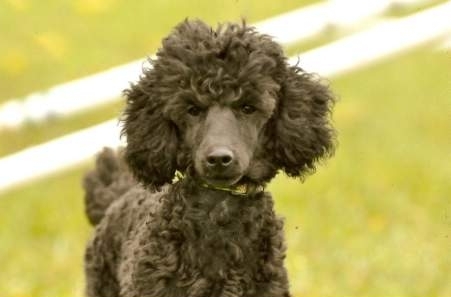 NICK
UKC Championship
"Just for fun"
It is hard to believe they are 9 mo old. His brother and sister are as pretty as Nick.
I had an opportunity to enter Nick in a UKC conformation show just to get him some ring exposure for his future performance career. Nick earned his UKC Conformation Championship in one weekend!
Sue and Nick


MAYNARD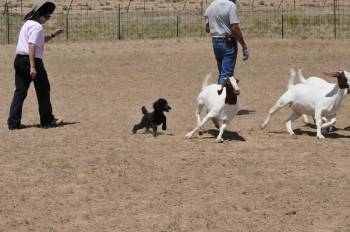 Maynard lives in Alamogordo, NM
Maynard G. Krebs (aka 'French Fry' in our Agility circle, no reason, someone started calling him by that moniker and it stuck...might have something to do with his haircut and the fact he always has bows in his ears...) is a fun-tastic dog! I am always surprised and somewhat amazed by his intelligence and work ethic. He loves to play, especially with the bacon-scented bubble blowing machine I got just for him.
How Maynard spent his summer:
(1) Ten days at Sheep Camp in Colorado. The afternoon he was being evaluated for his HIC he declined to hook up with the sheep or the goats. One judge told me "If he would have worked this afternoon like he worked this morning, he would have passed." Gee Willikers! Maynard and I belly-ed up to Mickey D's and shared an ice cream = I cried in my cone while he dipped in his ears in melted vanilla and we both felt better!
(2) Graduated from Agility I and is currently enrolled in Agility II classes. Maynard is not yet old enough to do weave poles. He does everything super fast and is good at 'touch.' We have spent the last three weeks really working on "Wait" and our homework has rewarded us. On October 18th we start private lessons (Agility) in Las Cruces, NM.
Tomorrow morning we return to Tracking Training which was dark from May to now because of the heat here in the desert. Our goal is to qualify for TD in December and take the TD Test in January (only offered once a year here in our type of desert).
In November we will begin private lessons in Obedience. Alamogordo does not offer obedience classes. Maynard is so very good that I fear my lack of experience will ingrain bad habits. Therefore I will be driving at least once a week (maybe twice if required) to take private lessons and by the first of the year hope to attend group lessons.
I have a disc of sheep camp photos but have not successfully downloaded them.
Also through summer Maynard and I went to the Rottweiler National Specialty, the Oklahoma City Circuit, and three Texas circuits. We were just along for the ride.
I LOVE MY POODLE BOY!
Cindy
JANIE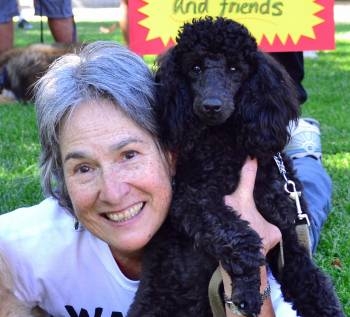 Janie is doing well in Agility Foundation and is now in Intermediate Obedience. We've also just started swimming once a week. She's very athletic, has the quickness of a cat and is
very fast. I can't wait to get her trained and under control because she
sure is a lot of fun!
Razz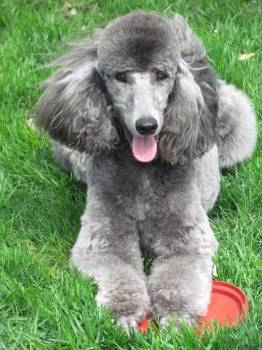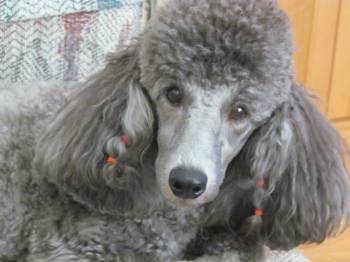 (1 yr photo)
You know of course, how satisfied I am with you as a breeder and with Razz. He is a wonderful, healthy, handsome
dog. The work you do with your puppies to acclimatize them for brushing, handling, grooming and the socialization was very impressive. House training was a breeze with the preliminary work you did. I also appreciate all the helpful tips and advice and your continued interest in the well being of Razz and his litter mates. Please feel free to use me as a reference as a satisfied and happy customer. Razz also sends his love - he is still the big kisser.
Margaret - Iowa
"STAR"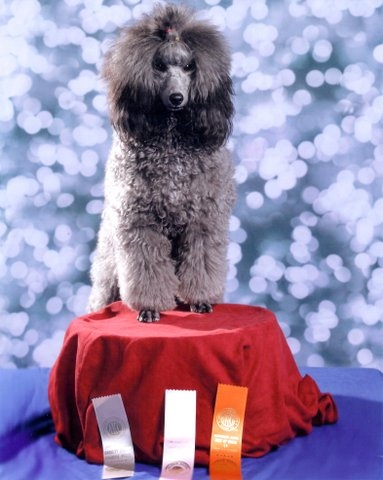 Living in NY-hitting the show circuit!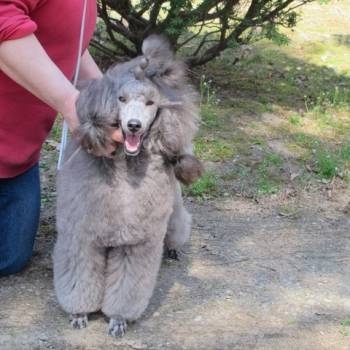 Star at 1 yr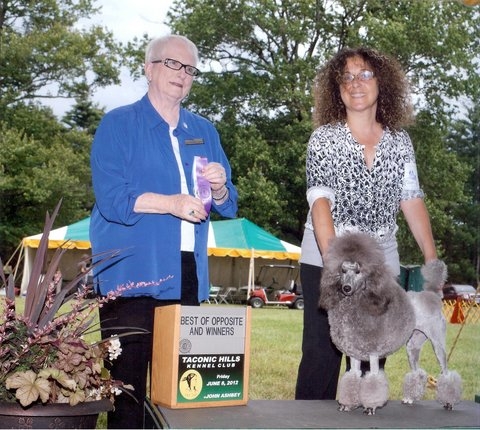 "KENNEDY"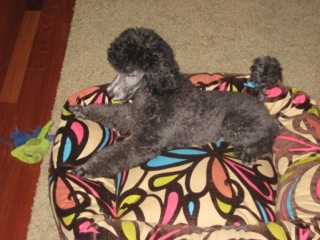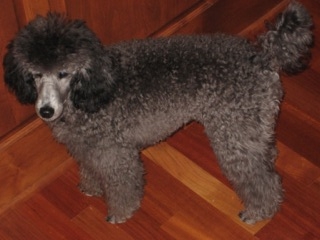 I highly recommend Absolute Silver Miniature poodles. Our puppy, Kennedy, has been such a blessings to our family. He is healthy, active and well-behaved. My husband and I are first time dog owners and were nervous; however Kennedy's temperament and obedient nature makes it so easy and enjoyable. True agility genes. I'm a serious runner and Kennedy can outpace me on a 2 mile jog! Another plus, Amy at Absolute Silver Miniature Poodles keeps you up-to-date on vaccinations and other important reminders and tips. Definitely a joy!
Warm wags, Bethany Connelly & Kennedy
"Absolute Silver Quick as a Wink"
"WINK"
(2nd from left)
I have known Amy Redepenning for a time and find her to be very much a dog person. She has only the best interest at heart for her pups. I know she tries to match up the pups with the families adopting them. On top of that she is always at hand for you to ask questions and get answers. I like the idea she is still in the pups life and they are not just a business to her. I have been very happy with my new pup as she is in A-1 shape and very healthy. Took her to my vet and she passed with flying colors. I plan on doing agility with my new baby and her personality is showing she will be a good one. Recommend Amy to friends??? You bet. I can't think of a more caring breeder. Bonnie Schuld and Absolute Silver Quick as a "Wink."


Thank you for all your helpful info the other day. Thanks again ...big time. I consider you the "gold standard".